Yesterday was cold and dreary and this day is starting out that way too.
It is now 37°. It looks like we got some more rain during the night and it is still windy.
I took a few pictures of new blooms yesterday.
This clematis has been planted for several years and I think last year was the first time it bloomed to amount to anything. It is very early....I don't know the name.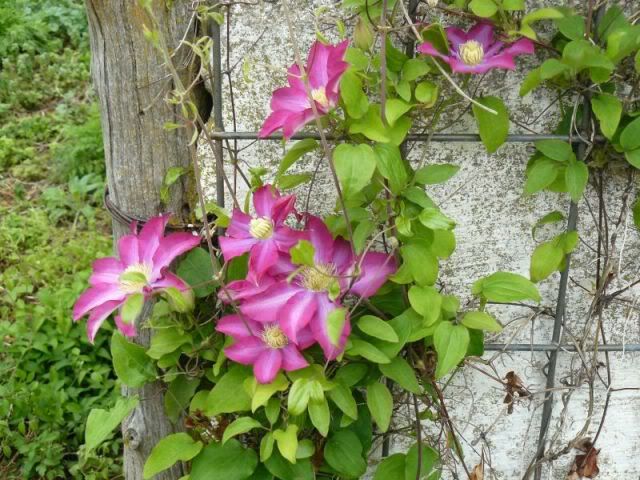 and this clematis is growing on the garden fence. It is loaded with buds but only one open so far,
This is self seeded lunaria (money plant) blooming amidst the weeds in the cellar bed,
I think this is Wide Brim hosta that is being choked by violets. It is a small hosts and needs rescuing.
and this is the little planter behind the back porch door that I am going to call the 'Jack Frost (brunnera)' bed.,
and the Humming Bird bed,
DH just reported that one of the very dimwitted hens has moved to another nest and left her eggs to be chilled overnight! Yet there are eggs under her. I know what has happened. DH has shut up the chickens for a couple of nights and he does it much too early....someone has laid in the new nest late and the hen just chose the wrong nest when she got down to eat and drink. Oh, for a couple of banty hens.....they are the best mothers in the poultry kingdom.