3:15 AM 59°, windy.
A storm front is moving in. Rains for tonight and tomorrow with very high winds.
Saturday was just a perfect day for working outside and I did....almost all day.
I got the entire Kitchen Garden tilled and ready for planting. No planting yet. I hope to do some this morning early.
I can't show this area well but the west end is about 25 x 45 feet and the east end, divided by the path from the gate is about 18 x 25.
The shadow on the lower left by the post hand is the hoop frame that I grow pole beans on.
The wooden spool is in the path that divides the section.
DH picked up the rose trimmings....not up to his usual quality....he was so afraid the basketball game would start without him!
I am determined to layout a plan for the garden....on paper, and follow it.
I haven't been milking lately. Willow has misbehaved a few times and I went tumbling. She doesn't kick, but jerks forward or backward which throws me off balance. Ever since we got her, I have wanted to milk her in the Milk Parlor where she can be contained snugly in stanchions where we milked the dairy cows. Things have deteriorated in the barn badly but will still work for her. I knew it would be an issue getting her up the ramp and into the barn. We used an extra cattle panel in front of the ramp and got her locked in there first. Once we got her on the ramp it went pretty smoothly....she took one step at a time and finally we locked her in.
I let her just stand and eat...no milking. Then I released her off to some beautiful new grass where she grazed all afternoon. She is still very skittish around me. I think I will try again in the morning, no calf, no feed until in the barn. If all goes well, I will milk standing up with her on the platform. Hopefully pictures to follow. I still want to get the milk bucket activated then milking can be finished in 4 minutes. Cleanup is a nuisance but so be it.
Here she is looking a little apprehensive....didn't eat a bite.
I saw a Red Admiral Butterfly yesterday. This picture was taken last year on DH's back; I didn't have the camera with me.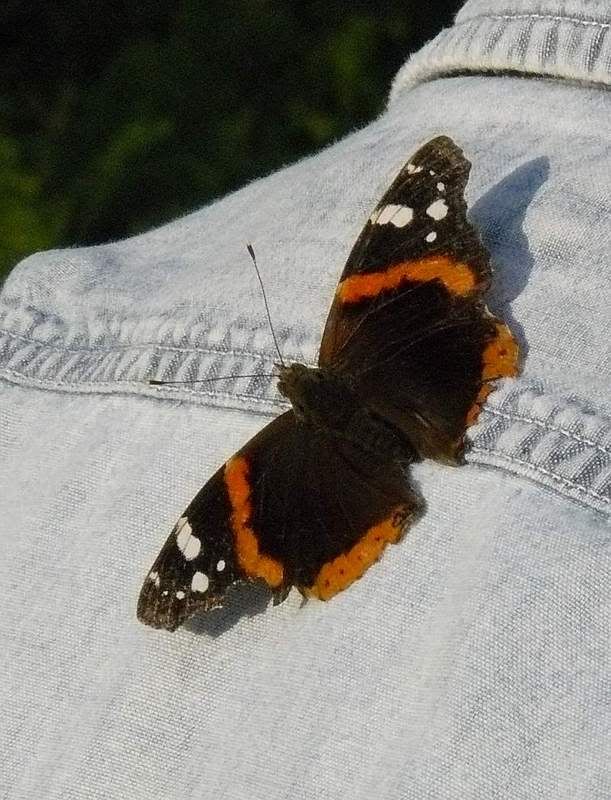 Random Flower Picture:
I saw another different violet this morning. These all cross readily.