I have taken a long hiatus from blogging......again. Maybe with cooler weather and less mowing, I can get back in the groove.
We have had some nice rains, but not as heavy as others in the near area. We are still nice and green and ponds are full and pastures are green.
I recently bought a bushel of Jonathon apples from a local orchard. They were beauties. I finished the last of them this morning. I saved all the peels and cores and added just enough water to the pan to get them started. I cooked them until soft and then strained the juice for jelly. I ran the pulp through the Victoria Food Strainer and made applesauce. I did the jelly this morning the old-fashioned way with no pectin.
It was a small batch so just got a quart of pink sauce and the little jars of apple jelly. I tested a half slice with butter on some 8-grain whole wheat bread. It was very tasty. I got a good jelly consistency using the sheet of the spoon test. It took about 20 minutes.
It seems I took another little break.....
New Start: September 23, 10:50 AM
The news is I am another year older.
I won't try to back track because it was just mundane daily things...which is what my life is, but I love it that way.
We are still mowing. Trying to beat the predicted heavy rain of Sunday. Not too much left to do. We are really looking forward to the 60° next week. Enough of this 90° + stuff!
The chickens have let up laying by about half. Max did find a 4-foot long blacksnake in the hen house and few days ago and released it in the nearby barn lot! He knew better. I suspect the snake is back snacking on eggs.
I have plans to attack the cellar wild zone and the garden with DH's help next week and clear-cut and mow! It will be a first if we get it done in the fall.
Cooking
I made a new recipe this morning. Once again from
Thibault's Table blog.
Oatmeal Scones with Maple Syrup Glaze
Scones
2 1/4 cups flour
1/2 cup sugar
2 1/2 teaspoons baking powder
1/2 teaspoon salt
6 Tbsp. cold butter
1 cup heavy cream (Option: Substitute Buttermilk and add 1/2 teaspoon of baking soda)
3/4 cup frozen raspberries (blueberries, blackberries, red currants, etc..)
extra cream and sugar
2 teaspoons softened or melted butter
1/2 cup of powdered sugar
few tablespoons cream or milk
Mix all ingredients together. Thin with additional cream or milk if necessary.


Preheat oven to 425°F. Mix together the flour, sugar, baking powder and salt. Cut in butter until it resembles coarse meal. Stir cream in to flour mixture. Mix quickly with fork just until dough starts to come together.
Tip out on to lightly floured surface. (Will look shaggy) Using hands gently pat mixture to flatten. Now fold dough like an envelop. Turn and fold again. Do this at least three to four times. Before the last turn, push frozen fruit (Raspberries, Blueberries, Red Currants, etc.. ) into dough.
Finish with final fold and turn and roll or pat dough into round. Cut into six or eight triangles. Dough can also be cut in half and rolled into two smaller rounds. Cut each round into 6 to 8 smaller scones. Or use a biscuit cutter to cut round scones. This whole step should only take 30 to 45 seconds.
Do not over-handle. (Tip: I may have over handled a tad so go gently here)
(Folding forms layers which makes for a very flaky scone).

Bake for 15 to 18 minutes.
Option: Drizzle with glaze.
I made a glaze with some powdered sugar, some Maple Syrup (real), and a bit of milk. worked beautifully.
We decided this was a keeper and a nice change from biscuits for a late breakfast.
Next project was making oatmeal bread using extra gluten since oatmeal doesn't have any. I thought it might make a lighter bread. I will save that for another day.
It was interesting but I have another recipe I want to try first before deciding to add or not to add. All this keeps me out of the hot sun but in a hot kitchen!
Yard
Salvia farinacea always gets a more vibrant blue in the fall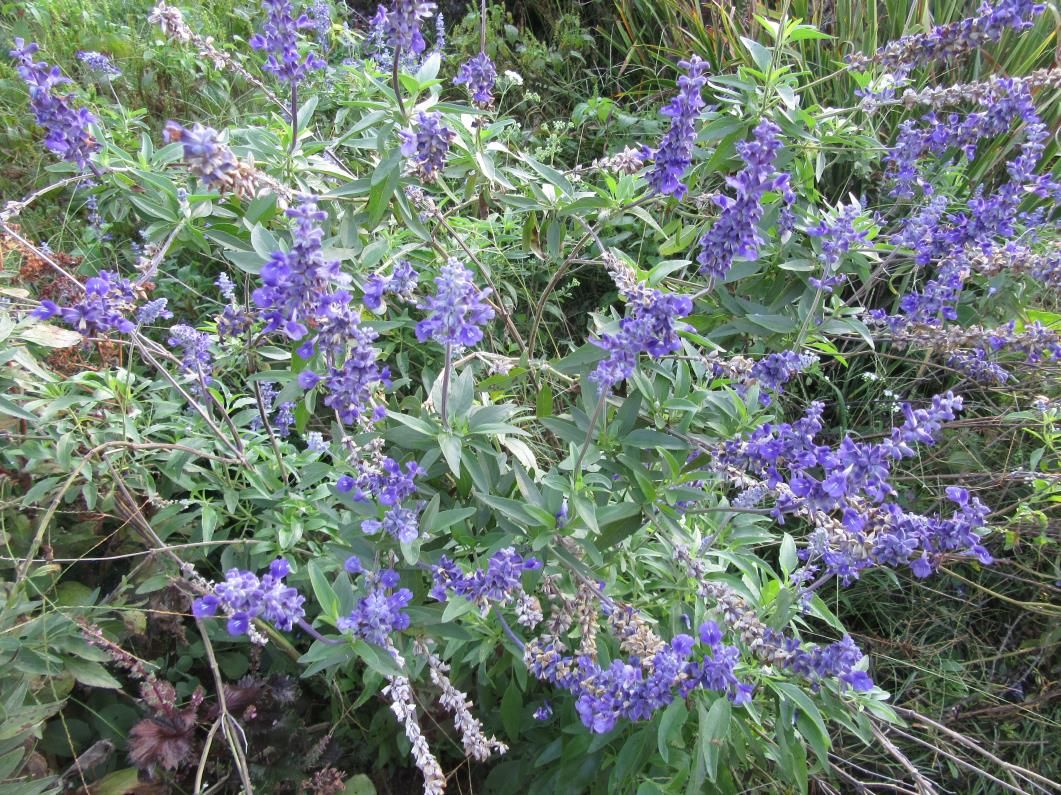 I have been away so long, I am having to relearn lots of blogger things....how to add picture for one! So, enough for now.